An animal shelter in Pennellville, New York, is devastated after a heartless act by a dog owner.
The owner callously dropped off their 14-year-old dog, Sophia, at the Friends Forever Animal Rescue without displaying any emotion.
The reason given was that the family was moving away.
Casey Newton, the founder of the shelter, was deeply moved by the situation.
The owner revealed that they had gone to several other shelters in search of someone to take in Sophia before coming to Friends Forever as a last resort.
The most heart-wrenching moment for Casey and the shelter staff was witnessing Sophia's reaction as her former owner drove away.
The poor dog seemed to be asking, "Where are you going? What did I do wrong?"
This abandonment left her feeling like she deserved to be deserted, which was heartbreaking to witness.
The veterinarians at the shelter were equally affected by Sophia's confusion and distress in her new surroundings.
They took to Facebook to express their emotions, sharing their struggle to comfort Sophia and let her know she is safe and loved.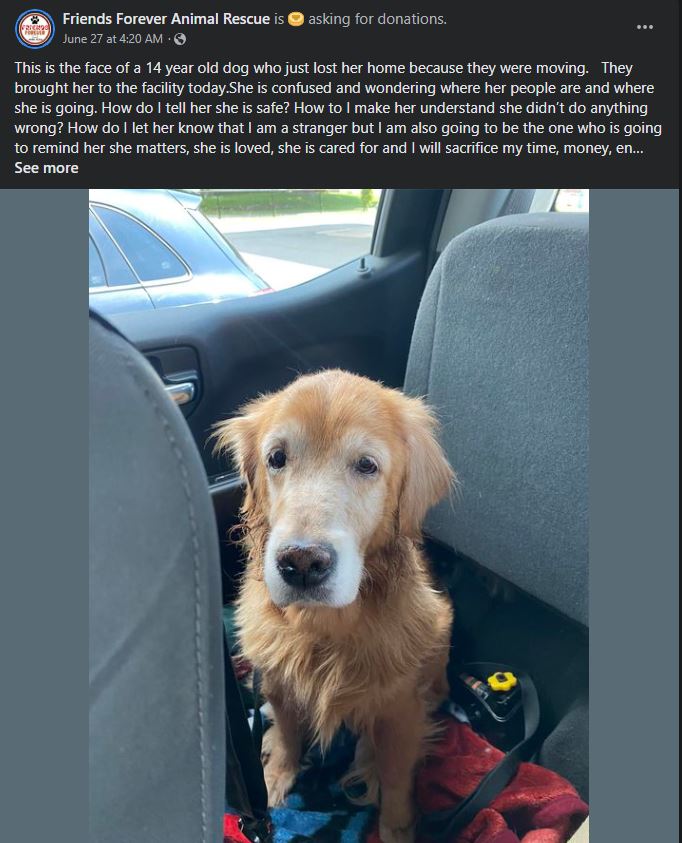 They pledged to care for her in her final days, showing that even though she was left by her family, there are still people who care deeply for her.
The Facebook post quickly went viral, gaining massive attention and support.
Hundreds of people shared the story, expressed their anger towards the owner's heartless actions, and donated thousands of dollars to help Sophia and the shelter.
Fortunately, amidst the public outrage, a positive update followed. One of the shelter's veterinarians stepped up to take care of Sophia personally.
The shelter expressed their relief, stating that they couldn't have asked for a better place for the senior dog to spend her remaining days.
While Sophia's story captured national attention, the shelter highlighted that this kind of abandonment is sadly not an isolated incident.
Many rescues and shelters face a constant influx of unwanted animals, making their mission to care for these abandoned pets an ongoing challenge.
Key Points:
A 14-year-old dog named Sophia was left at an animal shelter in Pennellville, NY, by her owner without showing any emotion.
The shelter's founder, Casey Newton, expressed heartbreak as Sophia seemed confused and abandoned, wondering why she was left behind.
A viral Facebook post garnered widespread attention, support, and donations for Sophia's care.
In response to the public outrage, one of the shelter's vets decided to personally care for Sophia.
The incident highlights the ongoing issue of unwanted senior pets being abandoned in shelters.