On March 30, 2023, Russell Crowe, the renowned actor, shared a heartbreaking story on Twitter.
He revealed that his beloved 16-month-old dog named Louis had tragically passed away after being hit by a truck.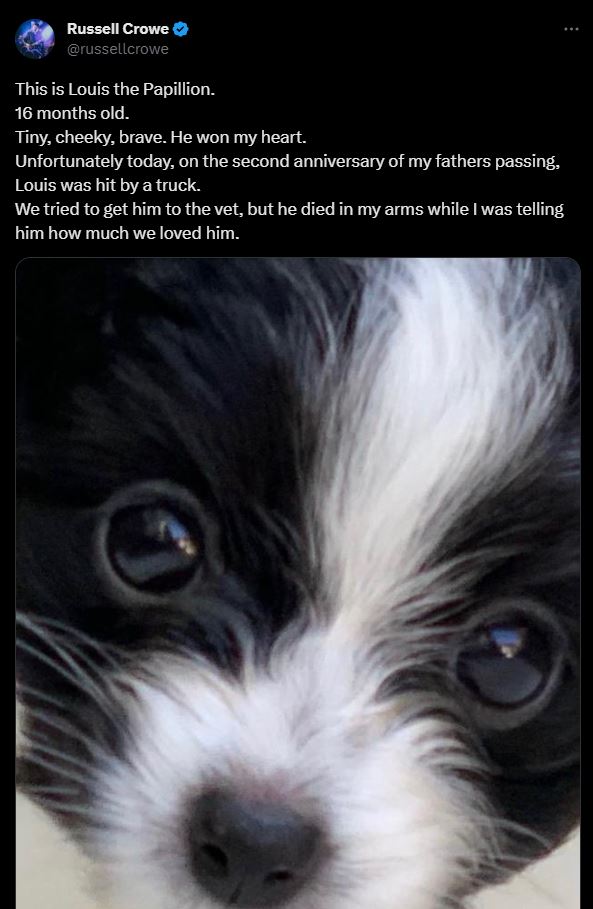 Making matters even more poignant, this unfortunate incident occurred on the exact date that marked the second anniversary of his father's passing.
Crowe posted a touching picture of Louis and introduced him as "Louis the Papillion," a tiny, cheeky, and brave companion who had won his heart.
The pain in his words was evident as he shared the devastating news, recounting how they tried to rush Louis to the vet for help.
Despite their efforts, the dog couldn't hold on and passed away in Russell's arms, with the actor expressing his love for the little pup in his final moments.
The loss struck a chord with many, including the animal rights organization PETA, who expressed their condolences.
They offered their heartfelt sympathy to Russell Crowe and acknowledged the love and bond he shared with Louis, assuring him that the memories of his beloved dog would forever remain in his heart.
This unfortunate event also brought back memories of Russell's father, John Alexander Crowe, who had passed away exactly two years earlier on March 30, 2021.
The actor had taken to Twitter back then to share the news of his father's passing, reminiscing about the kind and gentle soul that his dad was, and how he touched the lives of many around the world.
In these difficult times, Crowe had found solace in spending time with his father during the pandemic's early days.
They had isolated together, deepening their bond as they navigated through the challenges brought on by the outbreak.
The news of Louis' passing undoubtedly weighed heavily on Russell Crowe, as he remembered both his furry friend and his late father, cherishing the memories and the love they had shared during their time together.