For those of you who don't know Hachiko, the best way to describe him would be a Japanese Hero! If you are visiting Japan, chances are you will hear about him. Even better, you can actually visit his statue in Tokyo! It is a bronze statue next to the Shibuya train station. Thousands of visitors come to see the statue every year.
A little about Hachiko's background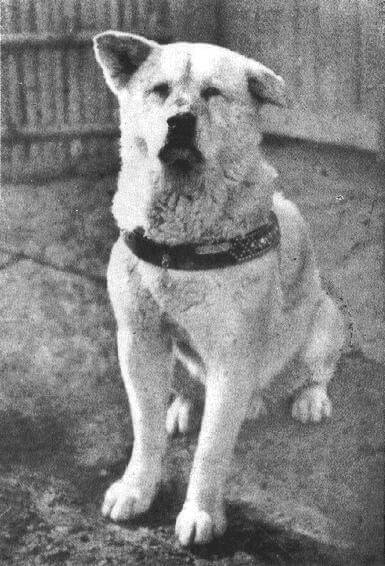 Hachiko was a Japanese Akita dog.
He was from the Odate city in the Akita prefecture of Japan.
After he was adopted, "Hachi" soon became his nickname.
Hachiko and Eizaburo Ueno
Eizaburo Ueno was a Professor of Agricultural Science at the Tokyo University. He had been interested in adopting an Akita puppy for quite some time. With encouragement from his students, he finally adopted one. Hachiko and Eizaburo became best friends soon afterward.
Why is Hachiko a Japanese Hero?
He is the country's national hero owing to his immense loyalty! While it is well known that dogs are man's most loyal companions, Hachiko took this characteristic to a whole new level! He did not just wait for his bestfriend, Eizaburo Ueno's return for a week or a month, he waited for much longer than that. Around 9 years to be exact.
How did Hachiko show his loyalty?
After Ueno adopted Hachiko, they would both go together to the Shibuya train station. Here, Hachiko would say goodbye to Ueno for the day as he left for work at the university. Hachi, as was his nickname, would then wait at the station for Ueno to arrive.
This pattern continued for years. This is why the station workers and local shopkeepers nearby started recognizing Hachiko. They would pet him, give him treats and keep an eye on him.
After several years, Ueno suffered from brain hemorrhage and passed away. This meant that he did not return to the station. Hachi obviously did not understand that his best friend had passed away. So, the loyal Akita dog would wait for Ueno's return everyday! Hachi continued to do this for as long as nine years until he passed away.
Where to meet Hachiko in Japan today?
Bronze statue of the dog outside Shibuya train station.
National Science Museum of Japan in Tokyo, where Hachi's body is preserved and kept.
At Hachiko's monument next to his owner's tomb in Tokyo's Aoyama cemetery.
Wrapping Up
To get to know more about Hachiko, his life, and his exemplary loyalty, you can watch the movie "Hachi: A Dog's Tale". Make sure to keep a box of tissues nearby when watching the movie, because it will surely get your tears rolling!